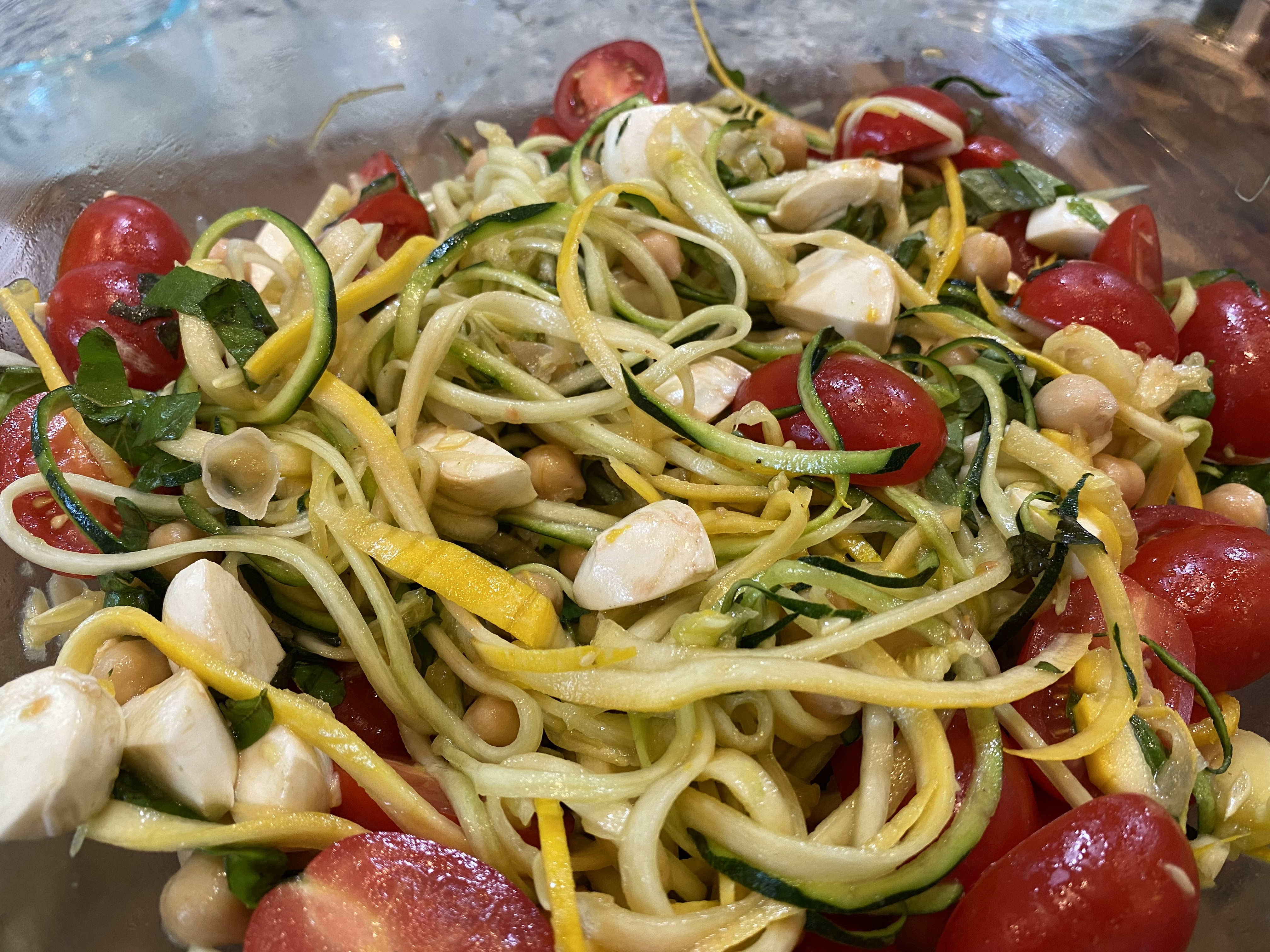 This light and tasty dish captures the flavors and colors of summer!
Ingredients:
DRESSING:
2 tablespoons olive oil
1 tablespoon balsamic vinegar
1/2 teaspoon garlic, minced
Salt and pepper, to taste
SALAD:
2 small summer squash (zucchini or yellow), ends trimmed
1 cup chickpeas, drained and rinsed or cooked from dry (or other bean of choice)
3/4 cups grape or cherry tomatoes, halved (try a variety of colors of tomatoes)
4 oz fresh mozzarella, bite sized pieces (can omit for vegan dish)
2 tablespoons fresh basil, chopped (can substitute dry)
Salt and Pepper, to taste
Directions:
To make the dressing, combine olive oil, vinegar, garlic, salt, and pepper in a small bowl or jar and whisk/shake to combine and set aside. (Tip: you can use a immersion blender of other small blender to emulsify dressing faster and more completely)
Use a spiralizer to make the squash into "noodles." (Tip: Spiralizer not necessary: you can use a vegetable peeler or slice by hand instead.)
In a large bowl, combine noodles, beans, tomatoes, mozzarella cheese, and basil. Toss to combine ingredients, drizzle dressing over salad and season with salt and pepper, to taste. (Tip: If you prefer a warm dish, you can heat veggie noodles over medium-high heat with olive oil for 3-5 minutes and then combine with other ingredients to finish.)
TIP:
Explore variations on this dish by trying different types of beans or cheeses- the combinations are endless!