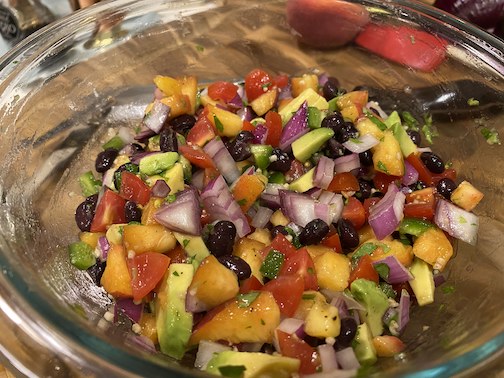 Enjoy in-season and local produce in this colorful and versatile salsa!
Ingredients:
2 peaches, diced
20 grape tomatoes, diced
½ large red onion, diced
2 fresh jalapeños, seeded and diced
1 avocado, peeled and diced
1 cup canned black beans, drained and rinsed
2 tsp garlic, minced
2 tbsp fresh cilantro, chopped
2 tbsp lime juice
Salt and pepper to taste
 
Directions:
Prepare all ingredients and add to a medium size bowl
Stir to combine
Enjoy with tortilla chips, over rice and beans or a top your protein of choice!
TIP:
Peachy salsa is fantastic with beans, over fish, or as a flavorful addition to a grain bowl!