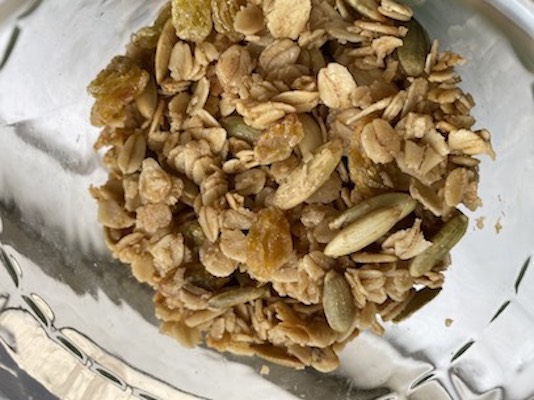 Homemade granola is simply made with several ingredients you likely have at home now!
Ingredients:
¼ cup olive oil ⁠
¼ cup maple syrup  ⁠
¼ tsp cinnamon ⁠
¼ tsp salt ⁠
1 ½ cup rolled oats⁠
½ cup nuts or seeds ⁠
½ cup dried fruit⁠
Directions:
Preheat the oven to 300°F and line a baking sheet with parchment paper.⁠
Stir together the oil, maple syrup, cinnamon, and salt. Place the oil, honey, cinnamon, and salt in a large bowl and whisk to combine.⁠
Add the oats and nuts or seeds and stir to coat well.⁠
Spread the mixture out onto the prepared baking sheet and spread into an even layer. ⁠
Bake for 20 minutes, stirring halfway through. ⁠
Remove from the oven, add the fruit, tap down, and cool. Cool completely before storing.⁠
TIP:
Explore different seasonings and tastes to create your ideal granola!