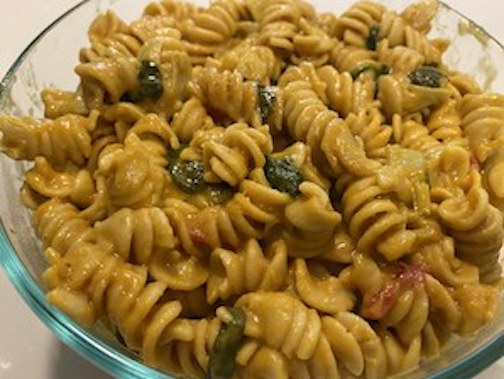 Enjoy a bowl of comforting, plant-based mac and cheeZe to soothe and relax.
Ingredients:
1 lb. whole grain pasta 
5 cups water 
1 tsp salt 
½ cup oat milk or other milk of choice 
2 Tbsp buttery spread or olive oil 
1 7oz pkg cheeze shreds 
½ 15oz can pumpkin puree 
2 Tbsp nutritional yeast 
2 cups spinach, loosely packed 
½ 15oz can artichoke hearts, quartered, drained, and chopped  
¾ cup canned diced tomato 
¼ tsp turmeric 
¼ tsp ground mustard 
¼ tsp garlic powder 
¼ tsp onion powder 
¼ tsp paprika 
salt & pepper to taste  
Directions:
Add pasta, water and salt to instant pot. Set to pressure cook/manual mode, and cook for 5 minutes. 
Quick release steam, and leave on keep warm setting. 
Stir in milk, buttery spread, shreds, pumpkin and nutritional yeast to create creamy sauce. 
Add in spinach and stir until wilted and combined
Add in artichoke, tomato, and spices, stir to combine & enjoy! 
TIP:
No Instant Pot? – This recipe can be made on the stove top as well. Just be sure to drain off some of the pasta cooking water.
Using different kind of pasta in the instant pot? – change the cooking time to half of the recommended stove top cooking time.
Can I use regular cheese, butter, or milk? – yes these can be subbed for the vegan alternatives