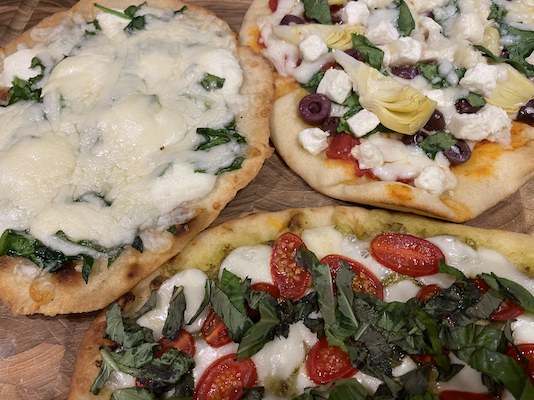 Ease meets creativity in these quick and tasty naan bread pizzas!
Ingredients:
2-3 Naan  ⁠⠀
1-1.5 Tablespoon olive oil  ⁠⠀
½ cup sauce, tomato, pesto, or BBQ (1/4 cup for each naan) ⁠⠀
Desired toppings ⁠⠀
Topping combination ideas: ⁠⠀
Caprese: pesto sauce, sliced fresh mozzarella, tomato slices, fresh basil ⁠⠀
Basic: tomato sauce, shredded mozzarella, bell peppers, mushrooms, pepperoni ⁠
Greek: pesto or tomato sauce, shredded mozzarella, Kalamata olives, artichoke hearts, spinach, feta ⁠⠀
BBQ Chicken: BBQ sauce, chopped grilled chicken (toss in sauce), shredded mozzarella, red onion and banana peppers ⁠⠀
Spinach Ricotta: olive oil, spinach, ricotta cheese, shredded mozzarella ⁠⠀
 
Directions:
Preheat oven to 400 degrees. ⁠⠀
Prepare desired ingredients:  chop or slice veggies, slice fresh mozzarella, etc.  ⁠⠀
Place naan on a baking sheet. Lightly brush naan with olive oil. Top with desired ingredient combination. ⁠⠀
Bake for 8-10 minutes until golden brown and cheese has melted. ⁠⠀
Enjoy!⁠⠀
 
TIP:
Play with different toppings and flavor combinations to create your ideal pizza!