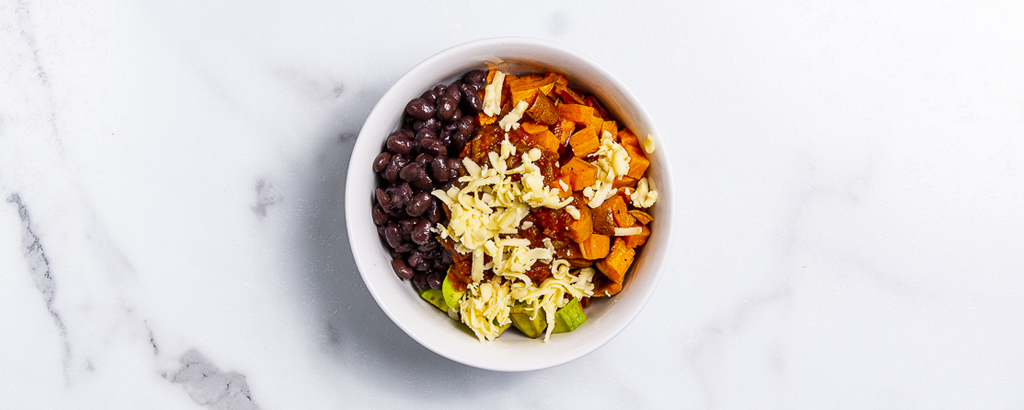 We celebrated World Vegetarian Day on October 1st with this hearty, meatless meal.
Ingredients:
½ cup cooked brown rice  (1 cup of uncooked rice will make 2 cups cooked) 
½ sweet potato, cubed and roasted  
½ avocado, sliced  
½ cup black beans, drained and rinsed  
2-3 Tablespoons salsa 
2-3 Tablespoons shredded cheese 
Directions:
Prepare brown rice (this can be done ahead of time): 

Bring 2 cups of water to a boil, add 1 cup rice.
Return to a boil, lower heat and cover.
Simmer (small bubbles) for 40 minutes.
Stir to fluff. Let stand removed from heat for 5 minutes.

Roast sweet potato, (this can be done ahead of time):

Cut sweet potato into cubes.
Toss with oil, salt and pepper.
Cook at 400° F for 25 - 30 minutes.

Build your Bowl:

Start with brown rice as your base.
Add sweet potatoes, avocado, black beans and salsa.
Finish with shredded cheese if desired.
TIP:
Use rice cooker or pressure cooker to decrease cooking time.
Prepare a few sweet potatoes at one time to incorporate in meals throughout the week.